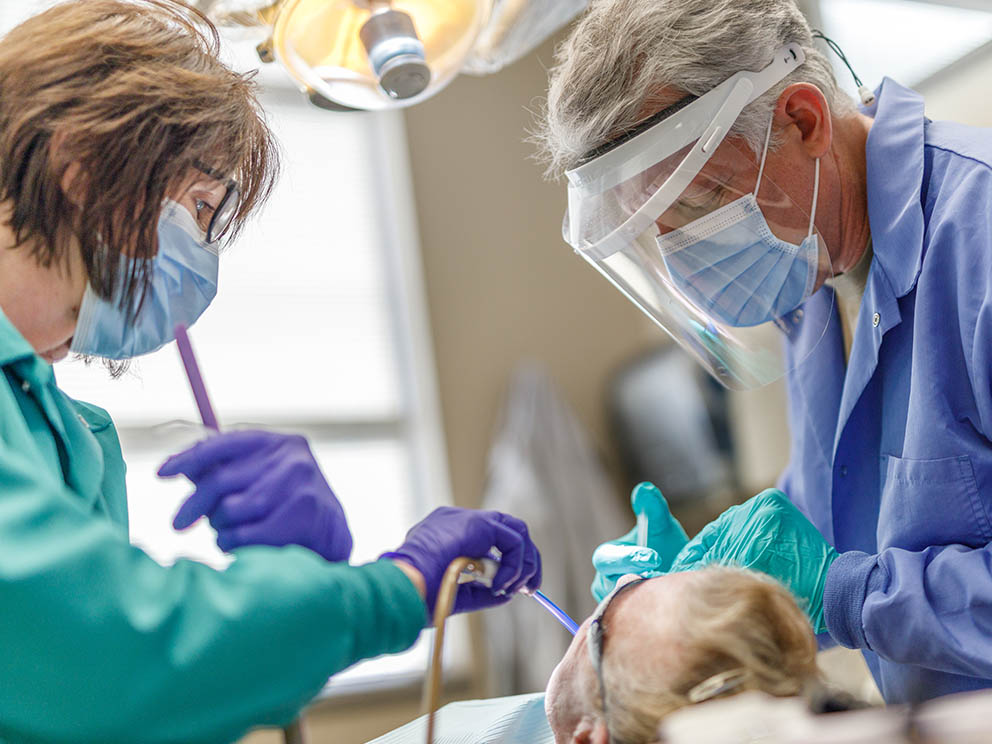 Our Mission
To provide quality medical, dental, and mental health care to the community.
Our Vision
To be recognized as the premier team that provides comprehensive, world-class health care for all walks of life.
Our Values
Teamwork, Excellence, Integrity, Respect, Accountability, and Happiness.
Who We Are
In the early 1990s, a team of individuals representing the Rapid City community gathered together with an idea to improve the health and quality of life for the uninsured and underserved. From the hard work of this dedicated group, the Rapid City Community Health Center was established in 1992. Two decades later, the health center has grown from one medical provider in one clinic to over a dozen medical, dental, and mental healthcare providers in multiple clinics, including a pharmacy. As services have expanded, the name was changed to Complete Health to better portray the full service healthcare center that we have become. Read about our full history below.
Patient Profile
Complete Health is proud to offer medical, dental, and mental healthcare services to everyone in our community. This includes both the insured and uninsured and various ranges of income levels. Thanks to our Sliding Scale Discount Program we are able to provide quality healthcare to low-income families. We also offer a Homeless HealthCare & Outreach Program which allows us to offer medical services to adults and children experiencing homelessness.
Through these and other programs, we are able to help persons whose household income is at or below 200% of the Federal Poverty Guidelines, with or without insurance. 45% of our current patients are in this income category. Approximately 82% of our patients are uninsured or participate in Medicaid or Medicare. 39% of our patients are Children.
History
The Rapid City Community Health Center was first established in 1992 with only one doctor seeing patients. As they began to gain more clients and awareness throughout the community, RCCHC hired a second medical professional. Coupled with funding from the South Dakota Department of Health, the RCCHC began the Immunization Outreach and Family Planning programs and began to gain traction in the community.
In 1997, RCCHC moved to 504 E. Monroe Street, where they spent their first year as a Rapid City United Way member, after receiving additional funding to launch their Healthcare for the Homeless Program, which provides free healthcare to the homeless population in the area.
Between 2003 and 2008, the RCCHC opened two additional clinics: the Pediatric Health Center on 640 Flormann St. and the Oral Health Center on 687 N. LaCrosse St. At this time, the Rapid City Community Health Center changed its name to the Community Health Center of the Black Hills. The CHCBH opened their first school-based health center at General Beadle Community School in the state of South Dakota in 2009, becoming well-liked by the community. The center offers medical, dental, and mental health services to students and their families.
By 2010, CHCBH had officially begun to grow after being accepted into the Northern Hills Area United Way as well as the Sturgis Area and Southern Hills Area United Way agencies. CHCBH then purchased 4.59 acres of land to begin construction on the expanded CHCBH Building, which would include pharmacy, lab, and x-ray services as well as dental, pediatric, and family practice services all in one location. On November 9, 2016, the expanded CHCBH building on 350 Pine Street opened its doors to the general public.
In 2020, CHCBH opened the IRIS Clinic at their Pine Street location, specializing in quality Care for LGBTQ+ youth in the area. As one of the only clinics in the area specializing in LGBTQ+ care, the IRIS clinic offers information and resources for both youth and parents in the LGBTQ+ community.
In 2021, CHCBH opened its newest outreach clinic in the OneHeart Campus.
As CHCBH continued to grow and serve the Black Hills region, the need for a rebrand to better define how they served the entire Black Hills community became evident, leading to the current name – Complete Health Center.
Funding
Complete Health's annual budget is approximately $12 million. Sources are:
Medicaid Payments: 35%
Medicare Payments: 7%
Private Insurance: 9%
Grants: 34%
Patient Payments: 15%